Posted by amy | Filed under DiscoNews, DiscoThoughts
We've been busy little… Discotropers, but at last, the videos from our street party shows at Zero1 San Jose and ISEA Albuquerque are online! You can find them on our Videos page, or just watch em right here.
We had lots of fun at both shows -Discotroping outdoors in public places was something we'd been interested in since the beginning. The two shows were very different from one another, and it was interesting to talk to people and hear their reactions to Discotrope in the context of the individual shows (especially before we'd start, when they were trying to figure out what it was!) We got a lot of questions about Discotrope as "eco-art," and we tried to assure people we were not attempting to use Discotrope to save the environment. But some of the most interesting conversations were about instrument-building, which is what – content aside – Discotrope is, when you get down to it. Since "the dawn of time," people have been building instruments to make "music," and designing them to take "a minute to learn, a lifetime to master." Our strategy for doing that with the video disco ball is to use solar power – for us it turned out to be a straightforward way in to developing what could be a more nuanced performance instrument. So perhaps that's not quite "eco-art," but we think "eco-instrument-building" has a nice ring to it, don't you? Perhaps, "EcoInby" for short? Hmm…
Anyway, big thanks to everyone at Zero1, 516 Arts and ISEA 2012 for putting up with our show (and our outfits.) And thanks to all who checked out the shows!
Posted by amy | Filed under DiscoNews
Okey dokey, here's some stills from our second street show – at the ISEA 2012 Downtown Block Party in Albuquerque. It was a lot of fun, and a lot different than the Zero1 street party last week. We'll blog some thoughts about all this and how it relates to the universe soon, but for now, here's the pix…
Posted by discotrope | Filed under Uncategorized
We will be giving a talk at ISEA at the Natural History Museum, Sandia Room, Friday the 21st. Session starts at 4pm – our talk is at 4:55 or so. Talk title: "Surveillance! Voyeurism! Exhibitionism! Dancing at Cameras! …and what that has to do with a solar powered disco ball".
Also, don't forget our performance on Sunday night at the ISEA Downtown Block Party!
Conference program is here.
Posted by amy | Filed under DiscoNews
Just a quick post with a link to images from our first street show this past Friday at Zero1 San Jose:
And details on our second street show, coming up this Sunday at ISEA Downtown Block Party in Albuquerque.
We'll blog more about it soon.. we're a bit swamped right now, but just wanted to at least get the links posted!
Posted by discotrope | Filed under DiscoNews
We'll be performing Discotrope in San Jose at the Zero1 Biennial (e)MERGE Street Festival on Sept. 14th (starting when it gets dark), joined by Frankie Martin (UCSD) and Zaoli Zhong (Syracuse.) Then it's on to Albuquerque for the ISEA2012 Downtown Block Party on Sept. 23rd, starting also at gettin'-dark-time.
Mayukh Sen at Zero1 has written this article about Discotrope. And Geeta Dayal at Wired has written about us in Wired's Zero1 Preview. Thanks Mayukh and Geeta!
* Facebook Event with details on our Zero1 show
Posted by discotrope | Filed under DiscoNews
We are super excited to announce two September Discotrope downtown street shows – in San Jose as part of Zero1 Biennial events on 9/14, and in Albuquerque, as part of ISEA festival's Downtown Block Party on 9/23. More details to follow!
Posted by discotrope | Filed under DiscoNews
Last month we played two very different shows in Los Angeles. One was at the opening party of the Hollywood Fringe Festival where we played indoors. The other one happened outdoors in the serenely beautiful courtyard of HM 157, a historic mansion in the Lincoln Heights neighborhood. We used one of our ultra-windproof screen setups in addition to the wall of a 2-story building and surrounding vegetation to project on. For the first time ever, we also tried out our live camera at HM 157 and audience members danced along with video dancers. All of this fun and more is documented in the clip.
Posted by discotrope | Filed under DiscoNews
We're happy to announce that we'll be playing two shows in Los Angeles. The first is the opening party of the Hollywood Fringe Festival. Doors open @ 6:00pm on Wednesday, June 13 at Fringe Central, the hub of the festival which is located at 6314 Santa Monica Boulevard. Discotrope will be performed throughout the evening.
<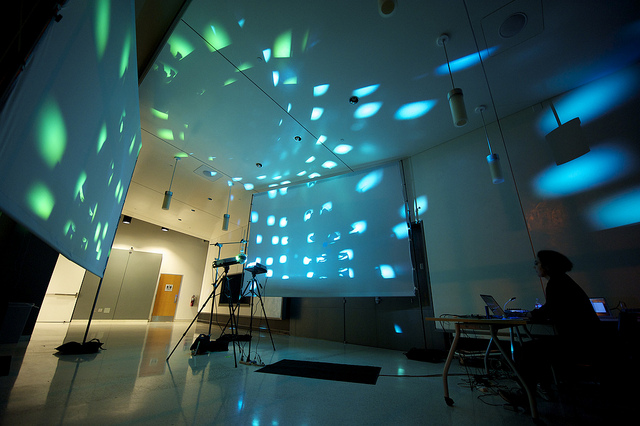 The second show is happening outdoors in the garden of the beautiful historic mansion HM157 in Lincoln Heights on Saturday, June 16 starting at 8pm. You can find the venue at 3110 North Broadway. HM157 was voted "Best Underground Date Night 2009″ and "Best Escape From Corporate Entertainment 2010″ by The LA Weekly. So flip off the fluorescents and burrow on down for an evening of solar cinema under the stars…
We hope you can join us – for one show or both! If you have questions or want more info, please feel free to contact us.
Posted by discotrope | Filed under DiscoNews
Thanks to Alex Matthews' excellent documentation skills we now have a video that tells the story of our first performance and the many places that we'd like to take Discotrope in the future.
We've also made a video documenting some bits and pieces of the show. You can view it at the link below:
And in case you missed it – an article from March about the Cal-IT show by Clare Discenza.
Posted by discotrope | Filed under DiscoNews
We are super excited to announce that we will be performing Discotrope: The secret nightlife of solar cells on Monday, March 19. The event is hosted by the Gallery @ CalIT2 and the performance will happen outdoors, in the Atkinson Hall Courtyard (with an indoor location in case of rain or wind).
Schedule:
Reception, gallery@calit2, 7pm
Performance, Atkinson Hall Courtyard, 7:30pm
More info and an article by Claire Discenza at Calit2.
Directions:
http://www.calit2.net/about/info/ucsd/index.php